Saying Good-bye to Friend and Smalltalk Advocate, James Robertson
James Anderson Robertson was a powerhouse of information for Smalltalk and worked furiously through the years to promote it through his blog and podcasts. James was an employee of ParcPlace through the ParcPlace/Digitalk merger, ObjectShare and through the move to Cincom Systems, Inc. When he left Cincom, in 2010, he became an independent contractor.
He was always an early adopter of technology, and he jumped into the blog scene when it wasn't yet a scene. He also started recording podcasts when podcasts were still in their infancy. Over the years, he recorded thousands of podcasts, screencasts, videos of conference talks and interviews making them accessible to everyone via podcast channels, YouTube and through his blog.
Remembrances from James' Co-workers and Friends
James had an abundance of people who admired him, not only in a work-related, professional way, but also on a personal level as a close friend. The following are some of their comments.
"My deepest sympathy to James' family. I have known 'about' James for many years before joining Cincom, but only when I met him in person could I more deeply appreciate his passions. One that struck me especially was his interest in history. He cared about what he did, about his family and about making the world a better place. I'll miss his podcasts and his to-the-point comments on the world's affairs."

– Jerry K.

---


"I first met Jim in the dark days around the turn of the millennium when fashionable opinion was that Smalltalk was all washed up; was 'dying,' and deservedly so. Jim had a strong character. You did not have to talk long to him before realizing he had an inner core of honesty and common sense that meant he could never be made to believe this—or any other silly but fashionable notion. It also became obvious (perhaps even more quickly became obvious) that no matter how 'politically incorrect' praise of Smalltalk was at the time, he would not let it go quietly into that good night. He was one of those you could trust to stand up and be counted; to stand up and to speak up. And through it all, he kept his spirits up and kept up those of others.

"Since that time, I have often met Jim at conferences and online and have always been delighted to do so. I also came to know that others held him in respect. During my contracting years, the best team leader I ever contracted for told me how much he wished the Smalltalk dialect his system was written in had the stream of videos and how-to talks that Jim had given to the one Jim was working in (later, Jim did indeed provide exactly that).

"Jim's forcefulness was relied upon by sensible coworkers—and was sometimes exploited by them. I once joined a team just after various essential issues had been sorted out; Jim had joined it a little earlier. Another team member told me, 'I knew these things had to be fixed, but I was very content to let Jim argue for them while I played Mr. Nice Guy.' Jim was sometimes blamed for 'making waves' when others were not disturbing some 'steady as she sinks' policy.

"Jim achieved a lot. We who knew him through Smalltalk know he achieved a lot for Smalltalk—and so for us. Smalltalk did not die, but alas, Jim has, far too young. We'll miss him."

– Niall Ross, Senior Software Engineer, Cincom Systems, Inc.

---

"I have contributed my Smalltalk Jobs report audio segment for James' podcast since 2006, and I knew him as a passionate advocate for Smalltalk and our community well before that. I and the wider Smalltalk community were enriched by his presence, and while his loss to us will be nearly as great, his legacy will be long lasting and not forgotten."

– James T. Savidge, Senior Technical Support Engineer, Cincom Systems, Inc.

---

"James was a very close friend of mine. I will miss him greatly. My days will be all the more lonely without his sharp humor. Both of us worked from home and had previously worked together—but our bond of friendship began before our work relationship. We shared our love for computer games with the world via podcasts, at a time that over 30,000 people were listening in to our weekly recordings. His hard work and dedication to his hobbies made that and so much more possible. I'm going to miss you James, very very much."

– Willow Lucas-Smith, Senior Software Engineer, Cincom Systems, Inc.

---

"It is hard to believe that we've lost James! He was a great person and fun to work with. He has done so much for the Smalltalk community—we'll miss him.

"Sincere condolences to his family; we are feeling the pain and loss."

– Yuwei Li, Lead Software Engineer, Cincom Systems, Inc.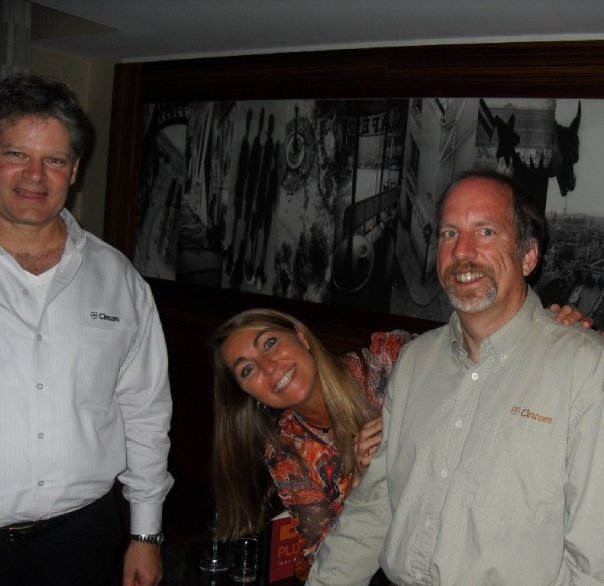 James' wife Jacqueline survives as well as his daughter, Victoria Robertson, a sister, Elizabeth Fuchs, his parents James H. and Ann Robertson, and other family members and friends from around the world.
Services were held on Sunday, April 20 with internment being at the Columbia Memorial Park in Columbia, MD. Funeral information can be found here.
For comments on this tribute, or if you'd like to share your personal memories or stories about James, please do so by adding your comments at the bottom of this page.
James was a good friend, and he will sadly be missed by everyone whose lives he touched.