Cincom® VisualWorks® 9.0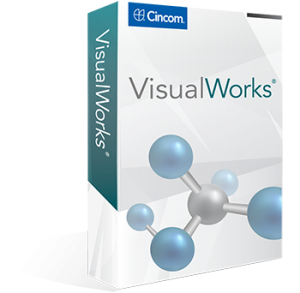 It is our pleasure to bring you the current major release of Cincom VisualWorks 9.0. Both Cincom® ObjectStudio® and Cincom VisualWorks share the same core libraries and foundation, which means enhancements on the foundation improve both products. This release has very significant and meaningful upgrades for the Cincom Smalltalk Foundation and for each product.

VisualWorks is an enterprise-class, multilingual, cross-platform, application development and delivery platform that's used by worldclass companies in areas such as semiconductor manufacturing, shipping, financial risk management, insurance, banking, government, education and healthcare.

The VisualWorks suite is the premiere Smalltalk environment and has an unrivaled live and interactive development environment that is highly effective and productive.

VisualWorks includes components for any type of work that your team might contemplate—Client, Server, Client-Server, Distributed, Grid or Web—and allows you to build them with superior development tools.

VisualWorks can work or integrate with most standard technologies such as internet protocols (HTTP, HTTP/2, FTP, POP3, etc.), secure protocols (TLS, HTTPS), most relational databases (RDBs), sockets, COM, Web services (WS*), Web standards (HTML5, JavaScript, Ajax, JSON, WebSockets), MQSeries and more. This allows VisualWorks to seamlessly plug into an enterprise infrastructure—an important feature for IS shops that need to integrate multiple applications from multiple sources.
Key VisualWorks Features

High-Fidelity Skins (UI Skinning)

Native rendering combined with customizable widgets
Native rendering on Windows and MacOS
Allows custom looks to be created by developer

Cross-Platform

Windows, Mac, Linux, Unix
See the available platforms listed

Enhanced Text

A few areas of new capability in text handling include:

Annotations
Sparklines
Adornments
Lists
VisualWorks is instantly portable across a wide range of platforms 32 & 64 bit including:
Windows (10)
Windows Server® (2016/2019)
MacOS (10.13.x – 10.15.x)
Linux (x86) (RHEL 6.0+)
AIX 7.x
Highlights:
Appex Ecmascript ES6 support
UI Skinning on Windows/MacOS
New text
Internationalization
Seaside Web framework
Web services
64-Bit
VisualWorks provides 64-bit VMs on most of our platforms including Windows 64-bit. The 64-bit solutions have a much larger addressable memory, allowing a much larger object space, very large collections and other optimizations for 64-bit.
Internationalization
VisualWorks includes an extensive locale system based upon CLDR (Unicode Consortium's Common Locale Data Repository) locales. VisualWorks now supports bi-directional content for sophisticated internationalization solutions.
VisualWorks Project Manager
The Project Manager allows easy location and launching of projects as well as new project creation.
GUI Tools
The Cairo graphics package is an option with available libraries, allowing powerful graphic techniques for attractive applications. The user interface operates with multiple processes instead of a single "distinguished" process, enabling more responsive applications. Shortcut keys are industry standard where applicable.
Community
VisualWorks has an active community that shares solutions. See the public repository and contributed page for available solutions. See www.cincomsmalltalk.com/main/developer- community/.