ESUG to Edinburgh in 2011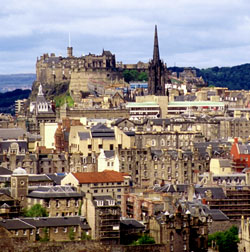 The 2011 International Smalltalk Conference (ESUG) will take place from Monday, August 22 through Friday, August 26 in Edinburgh, UK.  Amongst other reasons, these dates were chosen to be just after the famous Edinburgh Festival Fringe.  So you can come early and enjoy a spectacular range of events.
ESUG will have an excellent venue this year.  Edinburgh University, just left of the picture, is providing the entire ground floor of the Informatics Department.  Affordable accommodations can be found in Edinburgh University's Pollock Halls of Residence nestled under Arthur's Seat and Holyrood Park.  These accommodations can be found a little below the bottom left-hand corner of this picture. ESUG is block-reserving rooms at a good rate: provided you don't leave it too last-minute, you can be near the heart of Edinburgh in festival time for a very affordable price.
A Google map for the conference as well as conference-specific travel information will appear on ESUG's website soon.
For more information about restaurants in the Edinburgh area, click here.
For general travel information for ESUG 2011 in Edinburgh, click here.