Making the World Go 'Round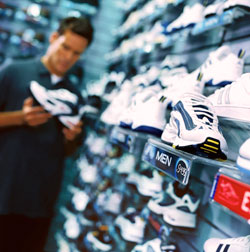 Each day, people go to their local mall to make ordinary purchases for everyday life.  But as they peruse the selections in each store, how many consider where the merchandise comes from?  How did those clothes on the shelves, the televisions on the stands and the tennis shoes on the racks get to the store?
"What is it about the container that is so important?" asks economist Marc Levinson in his book The Box: How the Shipping Container Made the World Smaller and the World Economy Bigger. "Surely not the thing itself. A soulless aluminum or steel box held together with welds and rivets, with a wooden floor and two enormous doors at one end: the standard container has all the romance of a tin can."
"It was not routine for shoppers to find Brazilian shoes and Mexican vacuum cleaners in stores in the middle of Kansas," Levinson writes. "Japanese families did not eat beef from cattle in Wyoming, and French clothing designers did not have their exclusive apparel cut and sewn in Turkey and Vietnam.''  Today, merchandise such as clothing, television sets and tennis shoes travel in a steel box with a standard size—20 feet long, 8 feet wide and, typically, 8.5 feet high—called Twenty-foot Equivalent Units, or TEUs.
New York University economist William Baumol says the shipping container "may be a close second to the Internet in the way it has changed our lives." In 1956, when the first container ship left its port in Newark, shipping was expensive and inefficient. Today, largely in part to standardization and technological advances such as Orient Overseas Container Line's IRIS-2, shipping is cheap and the consumer goods transported around the world are nearly innumerable.
Orient Overseas Container Line (OOCL) is a subsidiary of Orient Overseas (International) Limited (OOIL), a public company listed on the Hong Kong Stock Exchange.  OOCL is one of the world's largest international container companies and is most recognized for providing customers with logistics and containerized transportation services through their networks in Asia, Europe, North America and Australasia.
"OOCL said that overall revenue per TEU increased by 10.9% compared to the first quarter of last year, but gave no figures…With a 12.1% decrease in loadable capacity, the overall load factor improved by 14.6% from the same period in 2009." – Dale Wainwright in Singapore, TradeWinds
OOCL is well respected and is an industry leader in information technology.  OOCL understands that information technology is playing a vital role in the container transportation industry and has been a leader in the use and development of IT solutions for almost 10 years.
In 1993, OOCL integrated the business processes of all offices, customers' shipments and financial information into one system.  Their goal was to develop and install new technology and introduce an integrated system with capabilities that would revolutionize customer service, optimize business operations and create a system that would satisfy all of their customers' individual requirements.  This culminated with the launch of the Integrated Regional Information System, known as IRIS-2, in 1999.  Cincom VisualWorks® was selected for use in building the front end for the IRIS-2 system.
Click here to learn how OOCL used Cincom VisualWorks to create IRIS-2 and

impact 30% of the world's shipping industry

.
Click here to learn more about Cincom VisualWorks.