Why Should You Use Social Media for Maximum Exposure to Your Company or Application?
Comments from strangers, tire kickers, curious onlookers and fresh eyes at recent conferences and meetups have changed the thinking of the Cincom Smalltalk Product Team regarding how we can improve our communication to attract and secure new users. The sessions, meetups and events we attend are very important to us for attracting strangers to Smalltalk and growing the Smalltalk community. We also received fresh, thought-provoking questions that open our eyes to what we know but have possibly forgotten: Why did we get started with Smalltalk? What is the value of Smalltalk?
These questions have challenged us to dig down deep and share our story even more, conveying why we, and the Smalltalk Community, are fortunate that Mr. Nies kept his passion for Smalltalk for decades and pushed as hard as he could to get his hands on Smalltalk. As Mr. Nies said, "The combined complementary products and organizations further leverage Cincom's leadership role in the Smalltalk community … benefiting all customers and the Smalltalk community as a whole."
Because of this engagement, our team is now making improvements to our communication process, as well as our messaging and promotions. All of this is being done to make it easier for customers and partners to work with Cincom and for prospects to get started with Cincom Smalltalk.
Most recently, we shared a rundown of the many ways in which we currently communicate. We've gone into extensive discussion about what email newsletters we send out and how we use our website to convey information. We also spoke to how we take advantage of social media and the many ways we get in front of customers, partners and prospects using this channel. But, are we doing enough? How can we improve?
Part of the challenge in looking at the many ways we communicate was to look at our social media and see if what we are doing is working, what can we add and what can be improved. Currently, we use Twitter very heavily, followed by Facebook and then YouTube. Twitter does very well for us, and we use it to engage with a large following of the Smalltalk developer community. We also use Twitter to find new Smalltalk users and newbies, as well as events and meetups where we can evangelize the Cincom Smalltalk message.
We use Facebook much like our website. It's a place where we can display our Cincom Smalltalk Digest posts, product information, Frequently Asked Questions and other content to people who follow us. In calendar year 2019, we have seen quite an uptick in viral impressions there, so we've been adding more content to Facebook each week.
YouTube is the vehicle where we distribute all of the new promotional videos we have created throughout the year, along with our tutorials, Hidden Gems screencasts and other Cincom Smalltalk video content.
In the 2019 SOCIAL MEDIA MARKETING INDUSTRY REPORT, "How Marketers Are Using Social Media to Grow Their Businesses," Michale Stelzner of Social Media Examiner interviewed many top marketers who spoke about what they used social media specifically for. In summary, Stelzner found these seven categories to be the top reasons for using social media:
Engagement
Tactics
Organic Reach
Customer Acquisition
Measurement
Ads
Video
For the first time ever, achieving better engagement was the top question in which marketers were using social media platforms to achieve. In addition, a significant 93% of all marketers indicated that their social media efforts have generated more exposure for their businesses.
Increased traffic was the second major benefit, with 87% reporting positive results. These benefits have remained in the top two spots for the last five years. All of these particular benefits have improved since 2018:
Increased exposure grew to 93% from 87%.
Increased traffic improved to 87% from 78%.
Generated leads increased to 74% from 64%.
Improved sales rose to 72% from 53%.
Developed loyal fans grew to 71% from 63%.
Provided marketplace insight expanded to 58% from 54%.
Increased thought leadership increased to 57% from 46%.
Another platform we've recently started using more is LinkedIn. Some research points to the fact that 92% of surveyed marketers are using LinkedIn in their social media mix.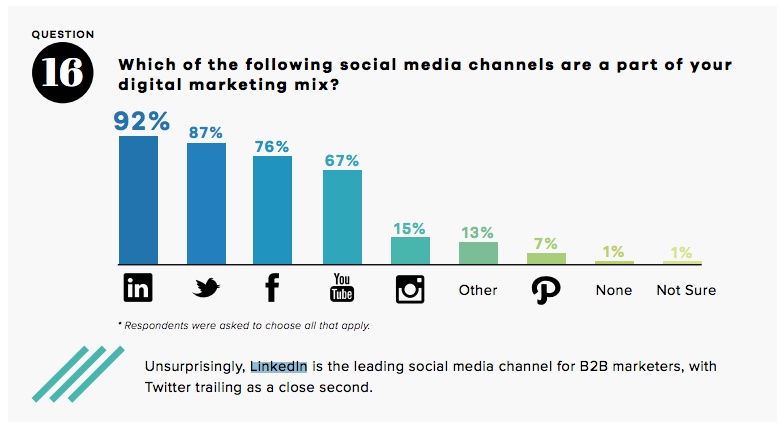 Here's a look at our social accounts:
Twitter
Facebook
LinkedIn
Suzanne Fortman – https://www.linkedin.com/in/suzanne-fortman-9495632/
Jeremy Jordan – https://www.linkedin.com/in/jeremy-jordan-cincom-smalltalk/
So why is this important? We mentioned above that "… a significant 93% of all marketers indicated that their social media efforts have generated more exposure for their businesses." That word exposure can mean different things to different people, depending on their business outlook and position. In marketing for example, exposure is a just a number within a portfolio or a way to make a business stand out from its competitors. But in the consumer world, exposure is more of a campaign or brand that a company is trying to market specific products to.
The fact is, all businesses need exposure, but even more than that, they need paying customers where the cost to acquire that customer is less than the lifetime value of that customer in order to profitably scale their business. Exposure is the start, but company's should aim for new customer acquisition, repeat purchases and referrals. Customer acquisition and loyalty should be thought about in everything from marketing to the products and even the operations of the company.
Having a blended social media mix with a good strategy is a recipe for success for any company. But for the Cincom Smalltalk product team, it is part of the lifeblood of our strategic marketing plan. Smalltalkers, what social media platforms do you use for your business or for promoting your application? Which platforms have you had the most success with? We'd love to hear about it in the comments or share with us on one of our social media accounts.