TRY: Personal Use License Version
Thank you for your interest in Cincom Smalltalk. We're pleased to offer the current PUL versions of Cincom® ObjectStudio® 8.9 and Cincom® VisualWorks® 8.3 for your personal use. Please note:
Only Cincom VisualWorks 9.0 and forward will run on MacOS 10.15.x (Catalina).
Maintenance releases of Cincom Smalltalk are ONLY available to current customers or partners.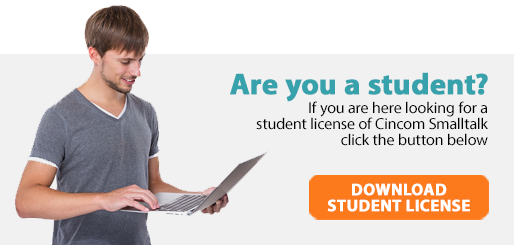 The download versions of ObjectStudio and VisualWorks have a "Personal-Use" license. We feel this license fits the needs of the community, contributors, and citizen developers using Cincom Smalltalk products. If you're uncertain whether your usage qualifies for personal use, please contact us to discuss.
We also have a starter program to keep you in your flow while you fine-tune your application and before you deploy. Click here to learn about the REV Program.
If you have product questions or suggestions, please contact Arden Thomas, the Cincom Smalltalk Product Manager.
Should you require a different type of license or evaluation, please contact Suzanne Fortman, the Cincom Smalltalk Program Director.
If you are an Academic User, you can get full support by emailing the Cincom Smalltalk Product Team.
To receive your free, personal-use copy of Cincom Smalltalk, simply fill in the form below with ACCURATE INFORMATION and the link will be emailed to you.
NOTE: Due to governmental regulations, it may take up to 24 hours for approval. If after 24 hours you have not received the email with the direct download link, please contact the Cincom Smalltalk Product Team. Plan accordingly.
*All fields but "Comments" are required.
---
---